Wholesale
At Freshwater, we pride ourselves on partnering with the best retailers in the U.S. and all over the world.
We work with a diverse range of brands, hotels and corporate clients, small businesses, and boutique owners to create curated collections that align with their brand.
From our core best sellers to semi-custom designs and elevated branded goods... all are handcrafted in our Augusta, Georgia studio with a level of detail that is guaranteed to exceed your expectations.
Handcrafted in Augusta, GA
Custom Branded Goods
Did you know that Freshwater specializes in custom branded goods? From semi-custom options like putting your town or city on a product to fully custom design projects, our co-owner, Brianne, is here to guide you through the process!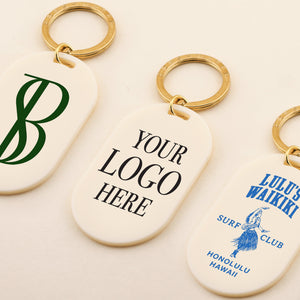 Testimonials
Don't Take Our Word
Reviewed by
Kharysa | Nashville, IN
"
I am obsessed with this company. They are so kind and helpful. The quality of every single item is fantastic. I can't get enough of the keychains. The customization process seems like it would take a long time but they ship so fast. Faster than most of our vendors with no customized items. Love Freshwater!!!!! You won't be sorry.
"
Reviewed by
Bretta | Grovetown, GA
"
Love their product. Love their team. They are a dream to work with! Highly recommend!
"
Reviewed by
Geneva | Honolulu, HI
"
Quick to respond, quick to customize, excellent service, fast shipping. 10/10 would recommend! Thank you so much! Look forward to continuing to work with you!
"
Reviewed by
Monica | Water Valley, MS
"
I had worked up an order for this company in Faire but was hesitant to create and submit my order as I wanted all the customizations to be perfect. I stumbled upon their booth in Atlanta at America's Mart. I was so excited to see them in person and talk over all the custom details I needed. They were so helpful and patient. Our products showed up timely and look amazing!
"
Reviewed by
Samantha | Port Aransas, TX
"
We have been so impressed with the quality of leather goods from Freshwater! Their customization options are out of the park and the custom items we have ordered turned out even better than expected. Thank you so much for delivering such a great product!
"
Reviewed by
Kord | Bryson City, NC
"
We love Freshwater Design! Their products are great quality and they are such a breeze to work with from designing, communication and even helping to merchandise it all to sell effectively. 10 AND A HALF MILLION STARS!
"
Wholesale FAQs
Freshwater is currently on Faire and Handshake! Our full catalog is on Faire while our best sellers are on Handshake. However, if you'd prefer to work one-on-one you can email us at info@freshwaterdesign.co and Brianne will get the ordering process started with you that way too.
In A Store Near You
Explore Our Stockists
Freshwater can be found in over 250 retailers throughout the U.S. and interntionally... discover all of the retailers that currently stock our curated goods. Who knows, one could be right down the road from you.
DISCOVER NOW